Applications

Wide application of heat-dissipating silicone using flat nozzle
Industry

Electrical Machinery

Fluid

High thermal conductive silicone grease (heat-dissipating silicone)
Current challenges and requests
To dissipate heat in the electric components, high thermal conductive silicone grease (heat-dissipating silicone) is used. The existing process involves applying silicone in lines and then spreading them out, but this method suffered poor precision. If the application volume is small, the required heat dissipation cannot be obtained, causing product failure.
The customer has no choice but to apply more than required, and as a result, high cost adhesives are wasted.
To make the component close contact with heat dissipating silicone, not bead application but wide application is the first choice. However, using flat nozzle increases pressure loss. The existing equipment takes time to press the high-viscosity heat dissipating silicone out, causing to extend the takt time.
Solutions and merit when improved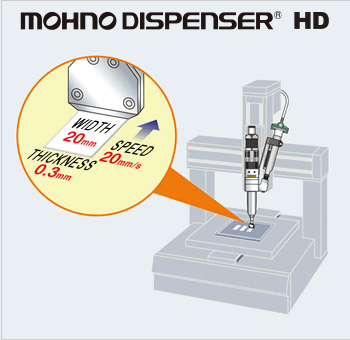 The Heishin Dispenser 3HD025G30 was introduced to handle high-viscosity heat dissipating silicone.
The Heishin Dispenser's ability to discharge material instantly at high pressure allowed wide application using flat nozzle in a short time.
Good fluid control with instantaneous reverse rotation at the completion of application provided consistent application shape.
The basic principle of single-shaft eccentric screw with excellent metered performance provided consistent application volume, helping to reduce material loss and improve product quality.
Related information
Did you know?
Heishin Dispensers are progressing cavity pumps.